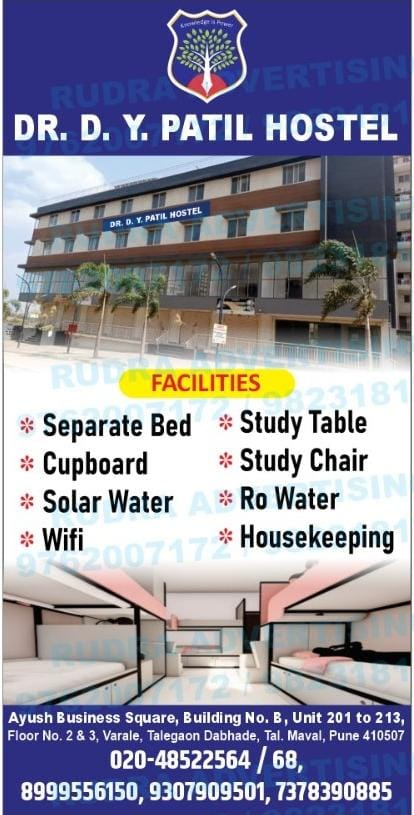 D.Y. PATIL HOSPITALITY SERVICES LLP
Survey No.32/2/3/4/5 Hissa No.2, A/P Varale, Talegaon, Tal Maval, Pune 410 507
HOSTEL FEE STRUCTURE FOR THE YEAR 2023 – 2024
| | | |
| --- | --- | --- |
| Accommodation / Room Charges | Refundable Deposit | Total Hostel Fees |
| Rs. 77,000/- | Rs. 5,000.00 | Rs. 82,000/- |
Bank Details for Payment of Fees:
Account Name : – D.Y. PATIL HOSPITALITY SERVICES LLP
Bank Name : – HDFC BANK
Current A/c No. : – 50200083449033
IFSC : – HDFC0001797
Rules and Regulations:
Students must pay 75% fees at the time of admission and balance 25% within two months.
Students can pay the hostel fees by Payment Gateway/NEFT/Net Banking/DD/Google/Phone Pay
Cheque /Cash will not be accepted
Fees paid will not be refundable except the Refundable Deposit.
Bed, Cupboard and table will be provided.
Electricity, Internet (Wi-Fi), and housekeeping facility will be provided.
Hot water will be provided only during 6.30 a.m. to 8.30 a.m.
Mess Facility will not be provided.
Laundry service will not be provided.
Friends, parents and guests are not allowed to stay in the hostel.
The student will be held responsible and will be fined if he/she damages any furniture or fixture in the room or of the hostel premises.
In case of illness or any other emergency, the students should immediately report to the Warden / Rector for further appropriate action. All expenses related to medical treatment will be borne by the student.
If a student is leaving the hostel for any reason for one or more than one night, he/she shall have to inform the Warden / Rector in writing. Permission Letter duly signed by the Warden / Rector is mandatory. In absence of written permission, the college will not be responsible for any incident concerning the safety of the student.
Smoking, chewing tobacco or pan, spitting as well as consuming alcoholic drinks is strictly prohibited. In case of violation of the rule in hostel or campus, the student will be rusticated from hostel immediately. In that case the hostel fee will not be refunded.
Misbehaviour with security guards/watchman/ mess staff/Waiters/ or any other official of the hostel will be treated as an act of indiscipline.
Any suggestion regarding the improvement in hostel facilities should be made to the hostel rector in writing.
Ragging of any sort is strictly prohibited & strict action will be taken against the culprit.